INDIBET Esports Betting Guide
Esports has been getting really big for the past years, which is why there are no doubts that it will be developing in the future. By the end of 2020, the total number of esports bets was estimated at more than $25 billion. In this regard, it becomes very important to clarify all the details, which will be discussed here. This guide will hopefully be a nice help for everybody willing to enter the world of esports betting, or, at least, learn more about it along with INDIBET. And we will start it with an overview of the most popular esports disciplines to bet on in 2021.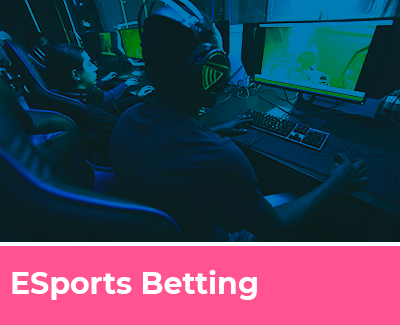 Popular Esports Games to Bet on
As you might know, not all the games out there can be considered esports disciplines, therefore the ones suitable for esports betting. In this regard, we would like to talk about the most popular esports games you can bet on at INDIEBET:
Counter Strike: Global Offensive (CS:GO)
This shooter replaced its legendary predecessor back in 2012, when many people, including professional esports athletes did not believe the game could ever blow up. Nowadays, CS:GO is undoubtedly the most popular shooter in the world, and one of the biggest esports disciplines for betting. Dozens of tournaments with huge prize pools are being held every year, which makes the game even more attractive for keen bettors.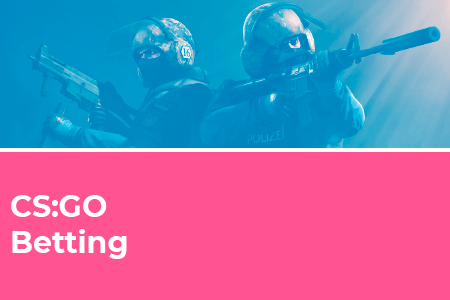 Dota 2
Another game by Valve with a famous predecessor. People love Dota 2 for its thrilling and complicated gameplay, unexpected comebacks, and epic battles. Tens of millions of dollars of prize money combined with millions of people watching matches live from all over the world create an ideal environment for esports betting. Only two teams participate in one match with five players in each. Every player has its special role with special heros: mid-laners, carry, hard-laners, and two supports. The first team to destroy their opponent's throne becomes the winner.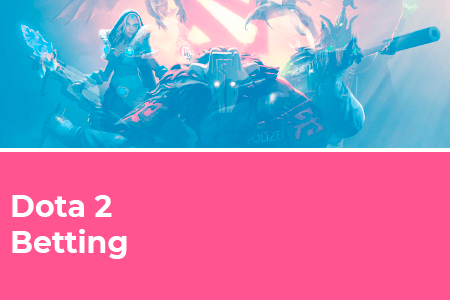 League of Legends
The game is quite similar to Dota 2 in terms of concept: two teams with five players in each get to pick heroes to battle for a win. League of Legends, or, in other words, LoL has gained the most popularity in Western Europe and North America, unlike some other games. Yet, the Riot Games project is arguably the most influential game out there, which, in turn, cannot but result in being the key figure in esports betting.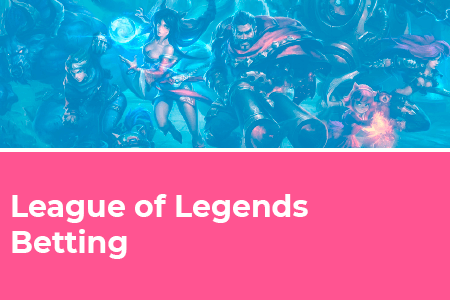 StarCraft 2
This is an incredibly popular RTS game that was released back in 2010. It was a sequel to the equally popular original Starcraft and set a new standard for strategy video games. Starcraft 2 has also played a key role in the development of the esports industry. As one of the first video games to be widely regarded as a viewer's sport, it helped establish the validity of esports competitions held in front of a live crowd.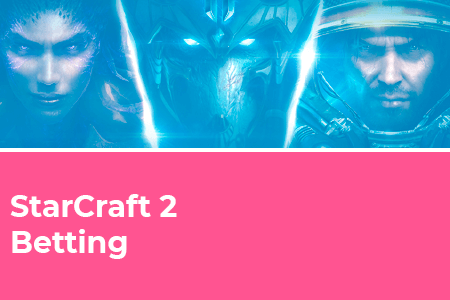 Valorant
This is another shooter game that was released in 2020, and oftentimes is being compared to CS:GO as a newer and more prosperous game. In reality, the gameplay is very different.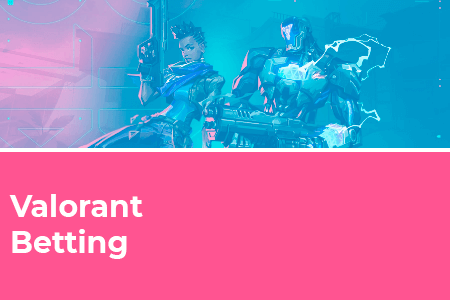 Major Esports Betting Tournaments & Leagues
Having mentioned the most popular esports disciplines to bet on in 2021, it would be wrong not to outline the tournaments and leagues that create so many betting opportunities.
CS:GO majors. The biggest and the most awaited CS:GO tournaments that are held four times a year. Twenty-four teams from all the regions earn RMR points playing RMR tournaments in-between the majors to be able to make it to the main event. The majors are full of thrilling matches of the best teams in the world, which makes it a perfect option for esports betting.
The International. This is the first Dota 2 tournament ever held in the history of the game. The event is held once a year and has the biggest prize money among all the other esports disciplines. Last time, the teams were competing for 40 million dollars! Without a doubt, the International is a true paradise for making bets of all types.
StatCraft 2 World Championship Series. The series, sponsored by Blizzard, was established in 2012, and features the most skillful rosters from all over the world. The game is traditionally dominated by Korean players, which is displayed in the table of the winners throughout this time.
League of Legends World Championship is a competition between the strongest teams of the professional leagues in League of Legends. The event has been held by Riot Games since 2011. Just like the International, it takes place once a year, and attracts millions of viewers and tons of bettors.
Valorant Champions Tour 2021. This will be the very first event organized and sponsored by the game's creators, Riot Games. All the teams from different regions must qualify by playing regional events. Look out for the tournament to be one of the first to witness a big show and make a good profit off placing bets.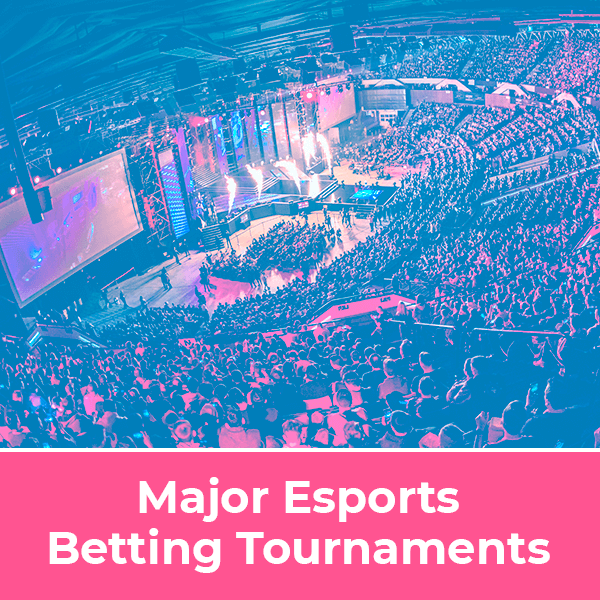 Types of Bets You Can Place on Esports
Esports betting types and those on traditional sports may differ. And while there still are many similarities in a line, the features of esports events allow for plenty of brand new betting options. Let's break down the most popular types of bets on esports events you can make:
Match outcome. This is the one you are all familiar with. Choose who you think will be able to win the whole match.
Map winner. The majority of esports disciplines' matches consist of 2 or more maps. For instance, if the format of a match is best-of-three (BO3), then there will be at least 2 maps played. In games like Counter Strike: Global Offensive you know which maps the teams will play on. Therefore you can take advantage of knowing which team is able to deliver the best performance on a particular map.
Totals (over/under). There are quite a lot of options to bet on totals. In a BO3 match, a total of 2.5+ means that you would win a bet in case of all three maps played. On the other hand, a total of 2.5- implies you are expecting a two-map affair. The same goes for frags, rounds, match or map duration, etc.
First kill. This one is rather risky since most of the time it is just a complete random.
First round (in shooters). Or, in other words, pistol rounds. This type of bet can be done in esports betting for shooters such as CS:GO, Rainbow Siege, Valorant, and others.
Even/odd. You can try to guess whether a map will finish with an even number of frags (rounds) or with an odd.
The first team to… Depending on the game you are betting on, there can be many variations. In Dota 2, or League of Legends, you can often see a bet on the first team to destroy a tower, or kill Roshan.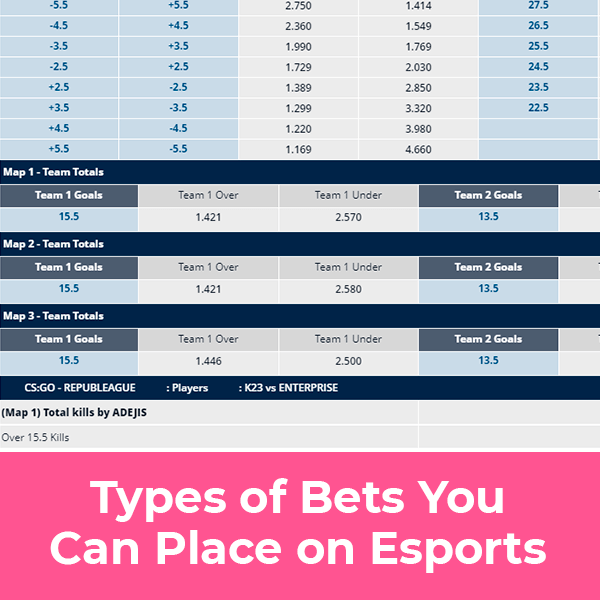 Live Esports Betting at INDIBET
Live bets are an integral part of esports betting online. And while pre-match bets are indeed quite understandable, less risky, which is great for beginners, live bets are more sophisticated. The majority of esports events you can bet on are perfectly suitable for making bets while a match is going. When choosing an esports discipline to bet on at INDIBET, those matches located on the very top and highlighted by orange color are live.
If you think you know the game, teams, and players well enough, live bets would give you a great advantage. You will be able to comprehend what is going on, how the teams are performing, therefore make more accurate predictions. To be successful at live esports betting you have to make sure you can keep up with all the rapid changes throughout the match, and be able to evaluate them. The odds may fluctuate as well, which is why it's highly important to make decisions in a matter of seconds.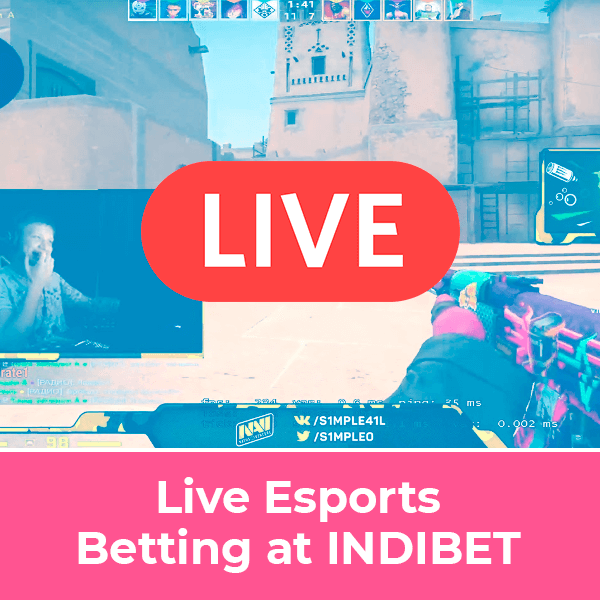 Understanding Esports Betting Odds and Lines

Make sure you know what you are dealing with before risking real money. INDIBET's esports betting lines consists of many online games:
Counter Strike: Global Offensive;
Dota 2;
League of Legends;
StarCraft Brood War;
Starcraft 2;
Valorant;
King of Glory;
Overwatch;
Rainbow Six.
You will see the number of events available for placing a bet on a game from the list. Once you have chosen the game and the event, you will be exposed to various types of bets, many of which we have already discussed in the article. There are 4 types of the odds available at INDIBET with Decimal Odds set by default. You can switch to Hong Kong Odds, Malay Odds, or American Odds at any time.
Decimal Odds. They display a total amount you can potentially win. If you see the 1.5 odds and bet a rupee, you would have a total of 1.5 rupees in case of winning.
Malay Odds. A negative number implies a winning of more than the bet amount, and vice versa. For instance, if the odds are -0.9, it means that if you bet 90 rupees, your winnings will be equal to 100 rupees. On the contrary, the +0.3 odds will bring you 30 rupees for betting 100 INR.
Hong Kong Odds. The only difference between this one and the conventional Decimal (European) is that it shows 1 unit less. It means that the bettor sees his potential net profit right away.
American Odds. This type of odds also has "+" and "-" signs. The plus sign displays the amount you can possibly get from a Rs. 100 bet. The odds of +150 means that a hundred rupee bet will generate 150 rupees of net profit. The minus sign shows the amount to be placed for winning Rs. 100. The odds of -150 means that a 150 rupee bet will bring you an additional hundred rupees.
Esports Betting Tips from INDIBET
Overall, esports betting tips are not so different from those of traditional sports. In this regard, use the following tips from INDIBET to make the most out of your esports betting experience and increase your chances of making some money rather than lose them:
Know the game. By that we mean not only rules and basics, but also different features that a newbie would not notice. Those who have a certain experience playing the game would make a more successful bettor.
Analyze teams and players. Do your own research. Do not limit yourself to only recent matches' results of the team you are going to bet on. Find the information about each player's performance, what's going on within the team, their mental conditions, possible changes in the roster, etc.
Do not bet the amount you will be upset to lose.
Make the most of live betting. Advanced bettors can grasp the slightest actions of different players to predict whether he or she is in a good shape. That is what you can take advantage of while the odds are decent enough.
Do not catch losses. Don't try to win the money back if you're having a bad day. The chances are, the emotions will take over, which may lead to rash and thoughtless betting decisions, and therefore to even more losses.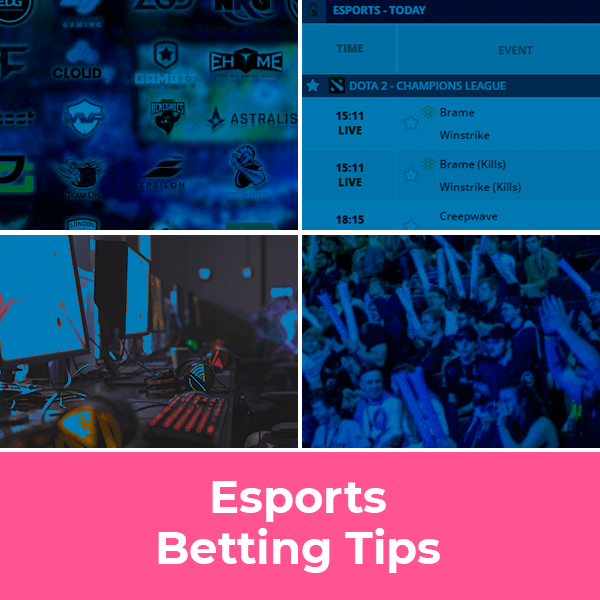 FAQ
Is Esports Betting popular?
It is almost as popular as traditional sports betting, which is why we see so many esports betting sites nowadays. The industry keeps growing, more and more people are interested in esports and betting on it.
Can I Bet Real Money On Esports At Indibet?
Yes, you can bet real money on esports events on INDIBET. Make sure you sign up and deposit money beforehand.
Is there Live Betting On Esports At Indibet?
INDIBET members can make live bets and watch a match right from a browser or mobile app.
Is it legal to bet on Esports?
It depends on the country of your residence. For instance, esports betting in India is totally legal.
Does INDIBET operate with a license?
Yes, INDIBET has obtained a license from one of the most reputable gaming authorities – Curaçao eGaming.